Force reset
When the product does not work correctly or an abnormal action occurs, you can reset it by pressing the reset button. Firmly press the reset button using a thin, stiff object of less than 2mm in diameter. When the system reset succeeds, the start-up melody will play.
*Do not use a needle or other sharp metal objects to press the button. Doing so may cause a malfunction or an electrical short circuit.
*Data may be lost after a force reset.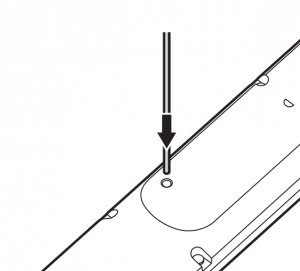 Factory reset
Perform a factory preset to delete all data and reset the device.
●Steps