The status of REC-1 is indicated by LED color and lighting patterns.
REC-1 has a battery LED and a function LED.
No.4 is the battery LED and No.6 is the function LED.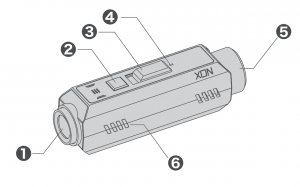 Battery LED status
When powered on press the function button, the battery LED will light up for 1 second and the light color indicates the charge remaining.


Function LED status
Normal mode
| Status | Pattern |
| --- | --- |
| Start-up | Blue-green for about 3 seconds |
| Standby | Blue-green blinking once per 2 seconds. |
| REC start | Red blinking once per 2 seconds. |
When Wi-Fi is on
| Status |  Pattern |
| --- | --- |
| Standby | Blue-green blinking twice per 2 seconds. |
| REC start | Red blinking twice per 2 seconds. |
Other
| Status | Pattern |
| --- | --- |
| Error | Blinking red |
| Firmware update | Blinking alternately between blue-green and red |