Connection screen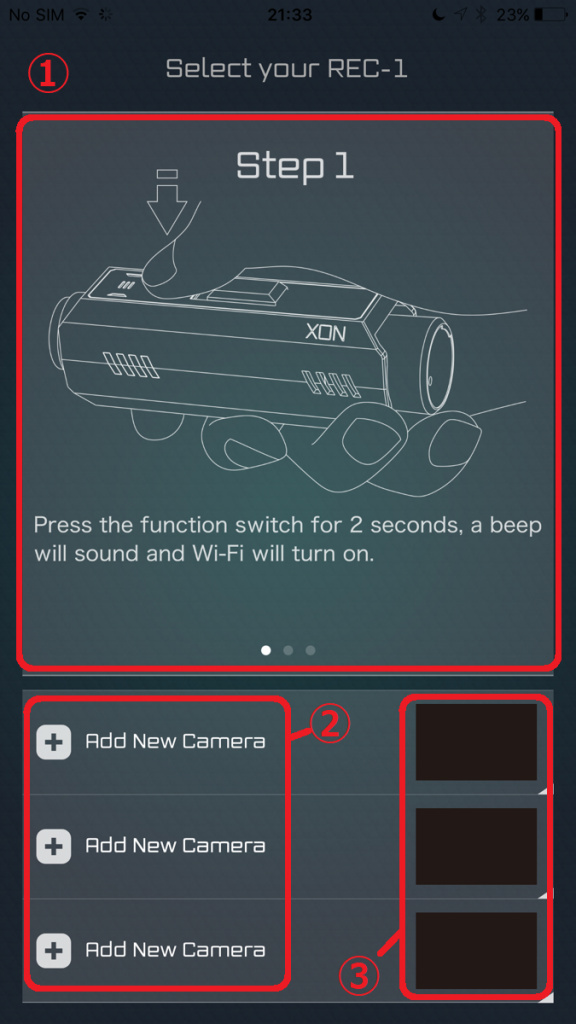 ① Instructions
② Camera register button / Camera select button
Up to three cameras can be registered in the REC-1 app.
Tap [Add New Camera] to register a new camera.
After registration the name of REC-1 will be shown.
③ Thumbnail
A thumbnail is shown when REC-1 is registered.
Main screen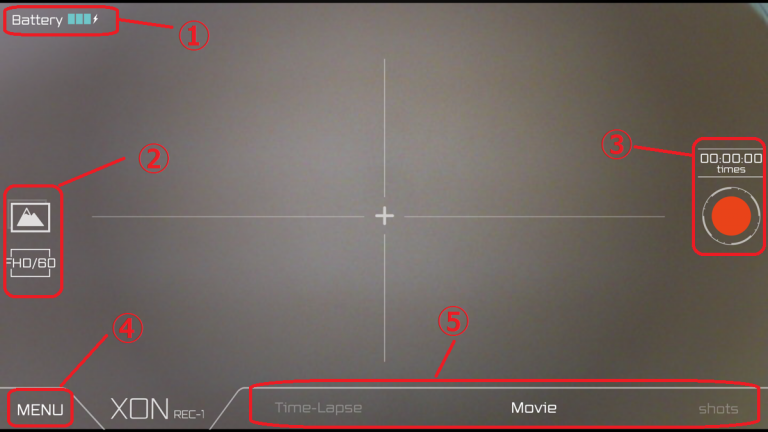 ① Battery icon
Shows the battery status of REC-1.
② Quick settings
Album and frequently used settings are available here.
Icons will change depend on modes.
In Movie mode and Time-Lapse mode, there are album and resolution options.
Self-timer, album and resolution options are available in Shots mode.
③ REC button
Press this button to take a video or a photo.
④ Menu button
Open the settings menu.
Contents will change depending on the current mode.
Settings screen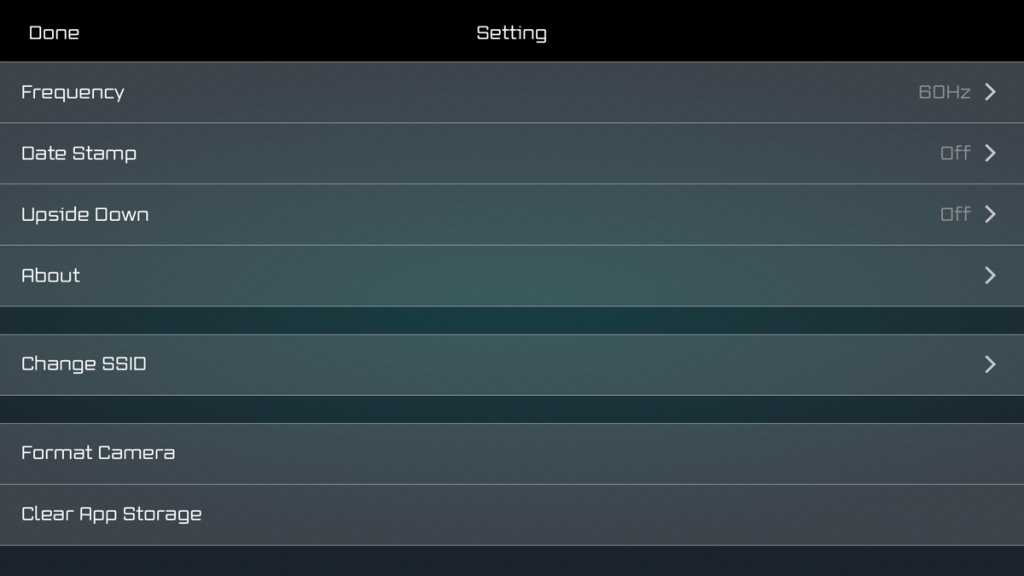 Contents of the settings page will change depending on the current mode.
Frequency
The frequency setting can improve flickering caused by light source frequency.
Flickering could be reduced if the setting matches the local lighting frequency.
Continuous Shooting
Set how many photos the camera takes when single tapping the REC button.
REC-1 takes 1 photo when set to "OFF", 3 with "3 photos", 5 with "5 Photos" and 10 with "10 photos"
Date Stamp
The date or date and time will be overlaid onto video or photos when "Date" or "Date & Time" is selected.
Upside Down
The image that REC-1 takes will be upside-down when "ON" is selected.
About
Displays the app version, firmware version and product name.
Change SSID
Change SSID and passphrase.
Format Camera
Initialize the SD card.
All data on the SD card will be deleted.
Clear App Storage
Delete the cache which is used when a smart phone downloads video and photos from REC-1.
Time Lapse Type
Change the file format of time-lapse mode.
The file will be saved as an image (.jpg) when "Still" is selected.
On the other hand, video file (.mp4) will be used when "Video" is selected.
Time Lapse Interval
Set an interval time for time-lapse mode.