Tap the bottom left menu icon to displayed the App menu.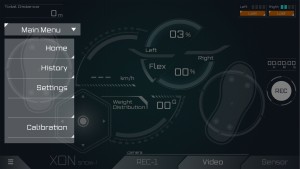 Home
Close the menu and go back to the main screen. You can also close the menu by tappping outside of the menu area.
History
You can replay your previously recorded data. Tap an entry from the list to then move to thereplay screen. If the data was recorded in [Video] mode, a [Video] mark will added to the list. If the data was recorded while your smartphone's GPS feature was active, you can see the GPS location.
On the replay screen, the data will playback in a loop. You can switch playback modes by tapping the bottom menu.

Route-log: Sensor data with a GPS based route log (map).

Video: Sensor data with video recorded by your smartphone camera.

Sensor: Sensor data only.


Tap [History] and to go back to the history list.

Settings
General settings menu for XON series devices.


My XON
Confirm and change current connected devices. As of March 2016, only SNOW-1 can be set.


Sensor LED
Turn on/off binding sensor LEDs (toe and heel).
Battery
Turn on/off, auto power off.

Camera
Set video resolution, default setting is high.

High : 1280×720 / approx. 9.5Mbps
Middle : 640×480 / approx. 3.9Mbps
Low : 192×144 / approx. 176Kbps

License
Show the app software license.

Calibration
You can re-calibrate your device, follows the same procedure described during initial set up. Tap the [START] button and follow the instructions.
After changing settings, tap [Done] on the top right of the settings screen and go back to the main screen.